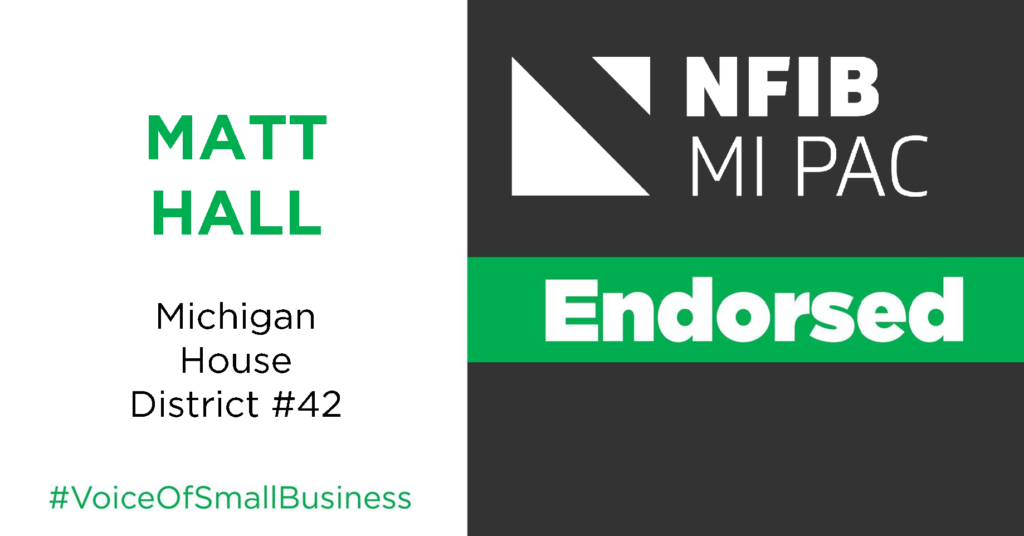 The National Federation of Independent Business (NFIB) is the nation's leading small business association. On June 8th they endorsed Rep. Matt Hall of Comstock Township in his upcoming election, making him the only state representative candidate in Michigan's new 42nd district to be endorsed by this and other small business associations in Michigan. These endorsements are decided by a board of small business owners who have reviewed each candidate's voting record when it comes to helping small businesses in Michigan and across the country. Rep. Hall has a 100% voting record supporting small independent businesses in Michigan.
Amanda Fisher, NFIB Michigan State Director said:
"Representative Hall received 100% on the 2021-22 NFIB Vote Record. Matt has proven that he is willing to fight for the rights of our members to own, operate, and grow their businesses…The NFIB MI PAC is enthusiastic in its support of Matt Hall and wish him success in the upcoming election."
Small businesses all over the state of Michigan have faced challenges over the last two years, challenges that they have never faced before. Rep. Hall sat with many small business owners, the NFIB and other small business associations to listen to what challenges they have faced and asked what he can do to help them succeed. Small businesses are the backbone of Michigan and our economy. They employ many residents of Michigan and Rep. Hall believes they deserve a seat at the table and help to succeed.
Amanda Fisher, NFIB Michigan State Director went on to say:
"NFIB will encourage its members to help turn out the small business vote for endorsed candidates like Representative Matt Hall this August and November"