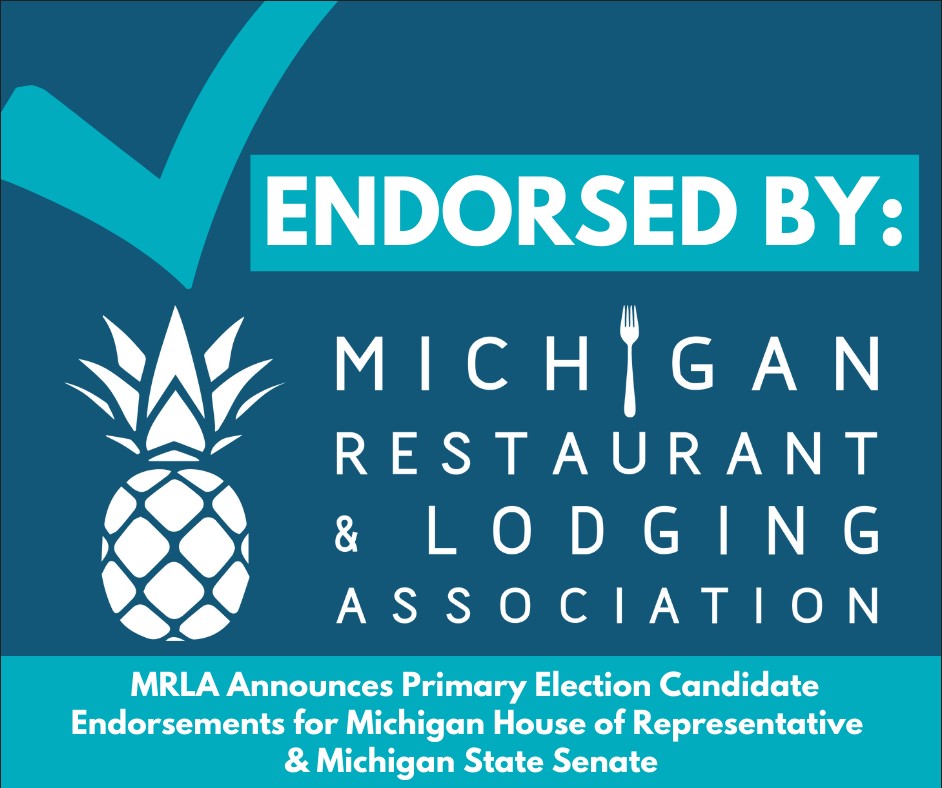 Back in 1921, the Michigan Restaurant Association (MRA) was created to "enhance and nurture the growth and development of Michigan's food service industry". In 2018, the MRA expanded its Association to become the Michigan Restaurant & Lodging Association (MRLA) in order to "advance the entire hospitality industry". Did you know how important the restaurant and lodging industries are in the state of Michigan? They employ approximately 600,000 Michiganders and generate approximately $40 billion in revenue in the state.
The MRLA has now endorsed 24 Michigan House Representatives and one of those is State Rep. Matt Hall. The MRLA President & CEO, Justin Winslow stated:
"Michigan's hospitality industry has endured an exceptionally challenging two years and now, more than ever, needs elected leaders who are willing to champion its resurrection…The carefully selected candidates for endorsement represent those who have recognized the importance of the hospitality industry to Michigan's overall well-being and demonstrated a commitment to help restore those restaurants, cafes, banquet centers, hotels and resorts that have sacrificed so much."
Matt has been at the forefront of fighting for the restaurant and lodges in the face of all of the obstacles Governor Whitmer had thrown in their way during the Pandemic. Matt was appointed chairman of the Joint Select Committee on the COVID-19 Pandemic during the 2019-20 legislative term. A committee that included members from both the House and Senate. That bipartisan committee examined the efficiency and response of Gov. Whitmer and her administration to the COVID-19 pandemic. Rep. Hall worked to hold Gov. Whitmer and her administration accountable as executive orders were issued and both lives and livelihoods throughout the state were impacted. The restaurant and lodging industries were especially hit hard and through the hearings, Rep. Hall chaired he fought to reopen the restaurants.
John McNamara, vice president of Government Affairs for the MRLA stated:
"These candidates have proven to be supporters and advocates of Michigan's hospitality industry through a detailed selection process…We are proud to endorse these individuals and look forward to working with them in Michigan's capitol next year."