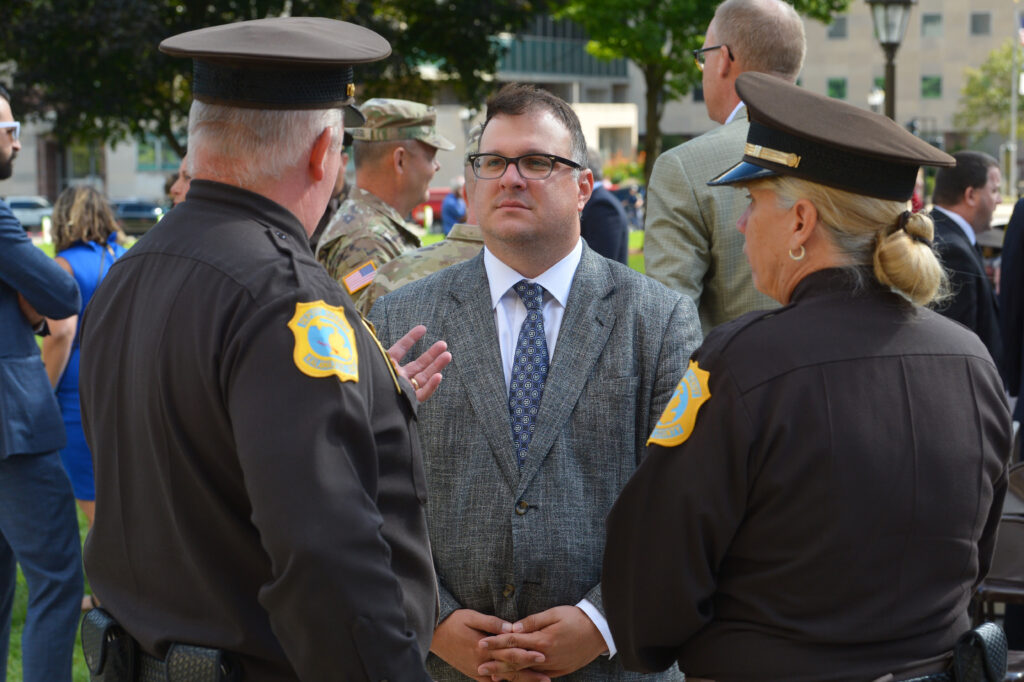 In his continuing effort to protect Michigan communities, last month, Rep. Hall of Comstock Township voted to move forward a plan to create a permanent and stable funding mechanism for Michigan's secondary road patrol. This program funds sheriffs' departments patrolling roads outside of Michigan's cities and villages. That program is currently funded via a $10 assessment added to each ticket written in Michigan and that funding has been declining for years.
With funding declining and the patrols in jeopardy, Rep. Hall jumped into action. Four House Bills; 5772, 5773, 5732 and 5569 were written to help stabilize funding the Michigan sheriff departments rely upon to fun their patrols outside the cities and villages. The bills would dedicate $15 million per year from Michigan's liquor excise tax. A little background on the Michigan liquor excise tax. The tax is currently 4% on the sale of all spirits in Michigan and the amount of liquor excise taxes collected has increased from $54.7 million during the 2016-17 fiscal year to $80.5 million in 2020-21.
Rep. Matt Hall, of Comstock Township, said:
"With a decline in funding, law enforcement has fewer resources to commit officers and patrols to areas outside of main cities – and people in those areas are less safe as a result…This is a critical investment in public safety and our communities, and it's being done without a tax increase."
The former Sheriff and current CEO and Executive Director of Michigan's Sheriff's Association, Matthew Saxton, stated:
"As the Executive Director of the Michigan Sheriffs' Association, I would like to thank Representatives Matt Hall for his support of this package of bills that Representatives Brann, Mueller, and Martin have worked tirelessly on to attain a commonsense solution to a long-standing funding concern for the Secondary Road Patrol program. This package of bills that representative Hall supported, and the House passed in a bipartisan fashion will resolve our issues for years to come. The package of bills provides Sheriffs and Counties certainty of funding, stability of staffing and safety for the citizens of Michigan."
Former Sheriff Saxton gave us the following details about the Secondary Road Patrol
"The program today:
The Importance of Secondary Road Patrol (Data from Fiscal Year 2020):

846 impaired drivers were removed from the road
36,208 traffic citations were issued on 59,224 vehicle stops
4,348 criminal arrests were made
18,569 assists to other officers were made
10,166 traffic crashes were investigated, 6,906 on secondary roads, 2,871 on state trunklines, and 388 in municipalities
Provided 272 Community Training Sessions, with 7,523 citizens instructed
Counties contributed $2.5 million in county GF to help avoid cutting SRP deputies
Most crashes occur on Secondary Roads

The Secondary Road Patrol Program funds roughly 105 deputies dedicated to traffic safety, as opposed to 283 deputies in 1978.
In 2002, legislation was passed that doubled the fee on moving violations for this program from $5 to $10, and transferred funding entirely to restricted fee revenue. Until that time it was a combination of fee and state GF revenue.

Revenue peaked in 2008 at about $13 million

Ticket revenue has been falling steadily since peaking in 2008

In 2022, ticket revenue is predicted to be $4.7 million
Over the past few years, the legislature has been contributing state GF to the program to make up for losses in restricted ticket revenue (THANK YOU!). This year (FY22), the legislature has put in more than $6 million in state GF."
Rep. Hall wants to assure everyone that the additional $10 assessment fee on every traffic ticket would be removed if these bills become law. Rep. Hall also believes that if this legislation does become law, it could disincentivize police departments around the state from writing more tickets to raise revenue for the secondary road patrol program.